6 ways SchooVR is the perfect Google Expeditions alternative
On June 30, 2021, Google decided to deactivate the Google Expeditions and Tour Creator apps. Google published the news in a blog post, and it framed the decision around making Expeditions tours more accessible to students during the coronavirus pandemic. "We've heard and recognize that immersive experiences with VR headsets are not always accessible to all learners," writes Jennifer Holland, Google's director of education program management. 
Google launched Expeditions for its Cardboard VR viewer in 2015. Its tours included 360-degree panoramas capturing museums, festivals, and far-flung wonders of the world. The decision by Google to shelve the Google Expeditions app has meant that 1000s of educators from around the world who were using the app and had purchased VR/AR equipment were left in the dark. 
As an educator who used Google Expeditions with my students, I was shocked at the decision. I was so shocked that I decided I wanted to create a replacement and help support educators like myself who adored the app. Below you will find 6 reasons why SchooVR is the perfect replacement for Google Expeditions. 
Dust off those VR kits and give SchooVR a try!!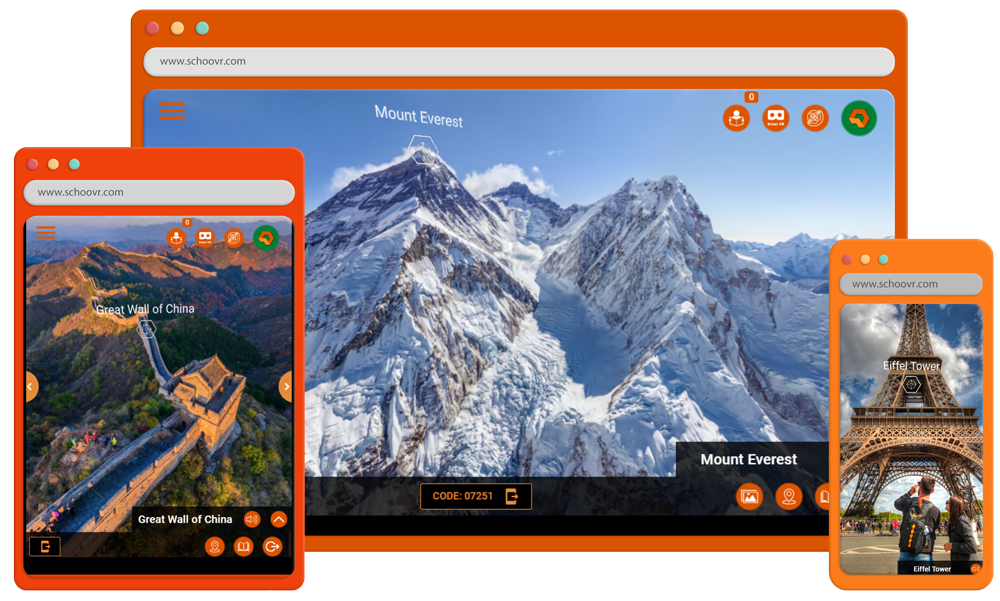 1. SchooVR works in any browser or on any smart device
SchooVR's innovative technology allows you to easily access virtual reality-based learning experiences for nearly any curriculum or lesson plan. No matter what technology you may be using, you can access SchooVR's technology to bring your lessons to life!
Educators and students can access the SchooVR platform on iPads, Chromebooks, Tablets and even Virtual Reality Goggles. Sign up for a free trial and start using the platform straight away! If you are using a VR/AR kit, download our Android and IOS student apps and explore the world with your class. Explore scenes, points of interest, slideshows or complete a quiz in VR!!
2. Guided and self-paced explorable scenes
The first step in learning how to utilize SchooVR is to check out our library of learning experiences. When you log in, you will find the entire SchooVR library at your disposal. Quickly scan and access over five hundred virtual experiences that are ready-made for both primary and secondary level students. Use the intuitive search bar to search by categories like subject or topic. You can even add favorites to your account library for easy access.
Once you have selected a SchooVR experience, launching your class is as easy one click. When the experience launches, simply have students visit the lesson's unique link to access the virtual class. Up to forty students can join a single experience, and enjoy learning together just as they would in the classroom!
Teachers and students can create and share VR learning experiences. Using our innovative SchooVR Builder or Google Maps Tour Creator, members can create an interactive experience using 1000s of immersive panoramas. Not only that, teachers and students can add PPTs, PDFs, quizzes and slideshows. 
All accessible in the browser!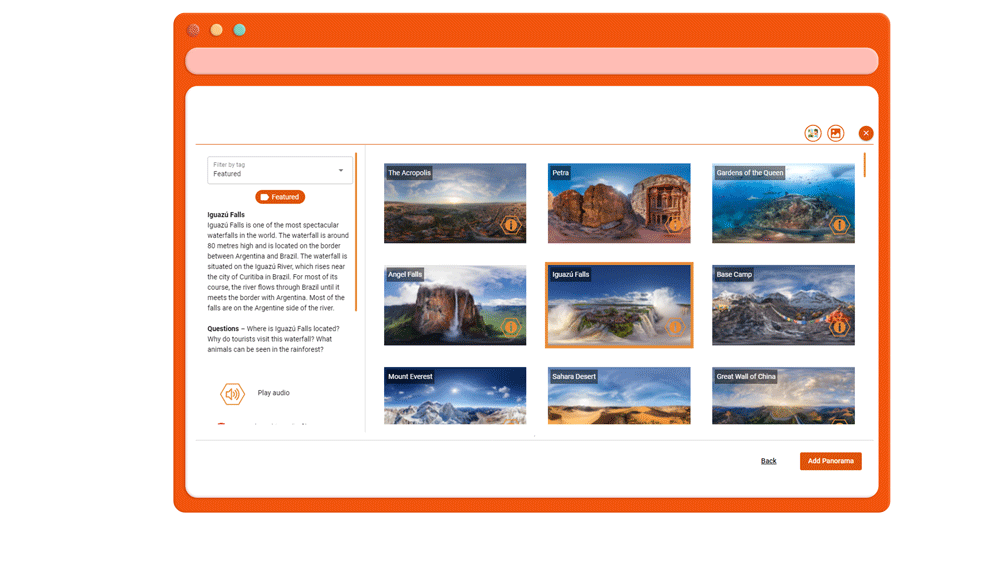 4. Real-time device management console
Teachers can guide students in a purposeful way using our syncing tools. Keep your students on track, improve student distraction and supercharge teaching and learning. As students follow the lesson, teachers can use interactive and fun questions, polls, resources, and quizzes to assess how well their students are engaging with the experience – in real-time!
To add to the realism, teachers can sync their own screens to each of their student's screens to journey through the experience together. This allows for teachers to continue engaging with students in real-time, offering help and guidance as needed. One of SchooVR's unique elements is the ability for students to access any of the included online learning experiences as they wish. This allows for a student's journey to continue even when the in-class experience ends for the day! With this kind of online content, access to great learning is limitless for students!
Create a class and add students. Students can access SchooVR content anywhere. Teachers can also share an assignment and create acctivites for students to complete.
Completed assignments are stored in the teachers profile.
Protecting your privacy is fundamental to our mission and business. We do not sell members data our advertise on our platform. 
Students can access a virtual experience using a unique lesson code, no email or important information is needed!
Create a FREE account and access hundreds of curriculum-aligned educational experiences.