SchooVR and REIM Training Solutions announce strategic partnership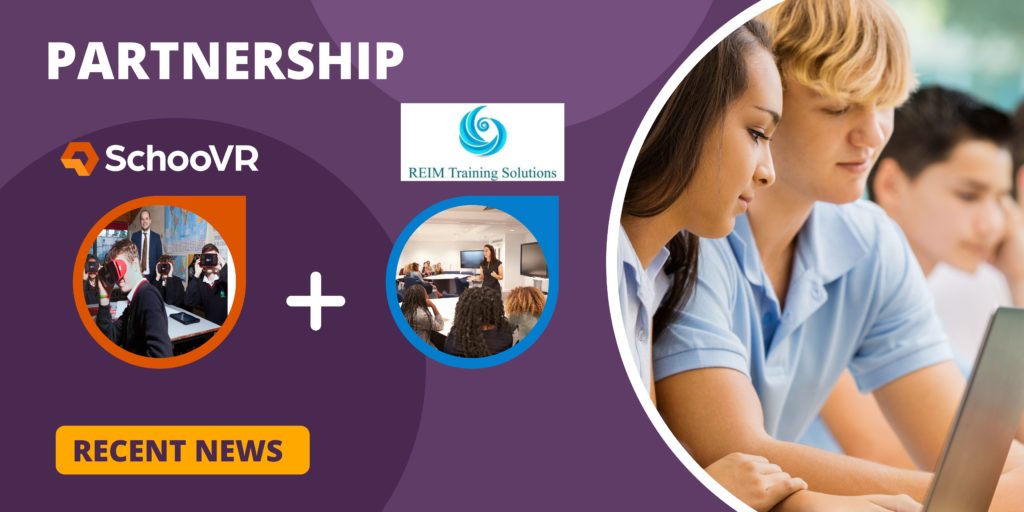 June 10th 2022 – SchooVR and REIM Training Solutions announce strategic partnership to advance the introduction of immersive learning technologies in schools across the island of Ireland. REIM Training Solutions will provide schools with a range of interactive VR/AR workshops, teacher training and support using SchooVR's immersive technology.
Dublin based immersive learning platform SchooVR is delighted to announce its recent partnership with REIM Training Solutions. 
Having launched its Beta platform earlier in the year, the team at SchooVR are now focusing on expanding operations in Ireland, the UK and USA. To date, SchooVR's immersive building tools and content has been used by 1000s of teachers and students around the world. Teachers have been able to bring the world into their classrooms by taking their students on virtual field trips to national parks, historical landscapes, and outer space. Even children in the Childrens Hospital in Tallaght have been able to explore the world without leaving their hospital beds.
SchooVR's mission is to ensure that every student feels engaged and empowered in their learning experience. In order to do this, we believe that a strategic partnership with REIM Training Solutions will allow us to support schools, teachers and students throughout Ireland and the wider world.
Speaking about the recent partnership with REIM Training Solutions, SchooVR's founder Mark Baldwin said:
Founded in 2008, REIM Training Solutions Ltd aimed to fill a skills gap in
the education sector by embedding technology enhanced learning methodologies and skills in the classroom. Since then, REIM have worked with hundreds of schools throughout Ireland and have built an exceptional reputation offering a full programme of workshops to the education sector. REIM are constantly researching and updating their product offering to suit the needs of the education sector and are fully immersed in the ICT revolution, believing ICT should not just facilitate education but enhance it!
REIM work closely with their clients to deliver high quality, cost-effective training and CPD for staff, and students, enabling them to fully integrate technology across the curriculum and maximise its potential in teaching and learning.